The phone number at the physical camp location is: (530) 669-6680
---
Thank you for showing interest in Donner Mine Music Camp.
First time campers will gain new friends and an amazing amount of musical knowledge.
Repeat campers will also have the opportunity to renew past friendships.

The following reminders are clarifications concerning camp and
will help to make this another outstanding year.

Remember: the days can be hot and the nights are cool to cold.
​
Please read, share and discuss all information!
---
Where is DMMC Located?
Donner Mine Music Camp is
NOT
located in Woodland.
Donner Mine Music Camp is situated at the Zeibright Mine nestled among
the deep green trees and rustling creeks in the Sierra Nevada foothills.
Look at the map to determine the correct location.
GPS is not reliable. Cell phone reception is often lost when near to camp.
VIEW MAP NOW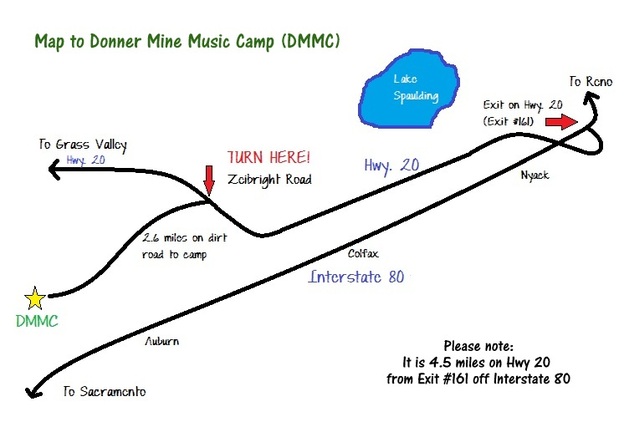 ---
About the Location of DMMC
REMEMBER- DONNER MINE MUSIC CAMP IS NOT LOCATED IN WOODLAND. PLEASE USE THE DMMC MAP ABOVE FOR DIRECTIONS.
GPS is not reliable. Cell phone reception is often lost when near to camp.
VISITING THE LOCATION BEFORE CAMP
Donner Mine Camp is private property.
Many organizations and clubs lease the location during the year.
The camp is booked for weeks before Donner Mine Music Camp begins.
Please make arrangements with Lin Stanchfield, Camp Manager, if you wish to visit before the start of DMMC.
Do not visit unannounced
. You can reach Lin at: (530) 389-8235.
For more information about Donner Mine Camp, visit their website at:
www.donnerminecamp.org
AFTER CONCERT CAMPING FOR FAMILIES
Very limited self-contained camping is available for Saturday night by pre-paid reservation only.
The cost is $10 per vehicle. Meals are not available.
Checkout time is 10:00am on Sunday.
Make arrangements by calling Lin Stanchfield at: (530) 389-8235.
There is no mail delivery. Parents, please make a note of this number. THIS IS HOW TO REACH CAMP STAFF WHILE CAMP IS IN SESSION. NO ONE WILL BE AVAILABLE AT THE NORMAL DMMC OFFICE NUMBER.
WHAT IS NOT ALLOWED AT CAMP:
Due to existing animals at camp, absolutely no pets of any kind are allowed
(including at check-in and checkout- NO PETS).
Glass containers, glass objects, etc. are not allowed at camp.
NO CELL PHONES OR ELECTRONICS ARE ALLOWED AT CAMP.
There are no provisions for hair dryers or curling irons.
No gum is allowed at camp.
Please review the full camp rules before arriving at camp-
CLICK HERE FOR RULES
.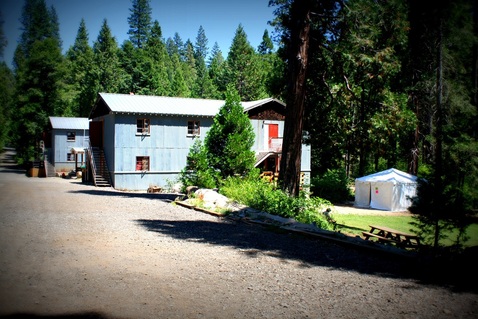 ---
Check-In
Camp check-in is Monday between 12:30 pm and 3:00pm.
DMMC High School Week- Monday, July 8, 2019

DMMC Junior High Week- Monday, July 15, 2019PLEASE DO NOT ARRIVE ANY SOONER EXPECTING TO CHECK-IN EARLY.
We will start check-in at 12:30 pm sharp.
Lunch is
NOT
available to campers and their families.
Bring a picnic lunch to enjoy under the trees. Table and benches are available.
The camp store will be open for snacks and cold drinks.
PLEASE REVIEW THE CHECK-IN INSTRUCTIONS
Make sure to time you arrival knowing that auditions will be completed by 4:45pm.
Many auditions begin around 1:30pm.
Parents are not allowed to attend auditions
.
Auditions are held to determine seat placement in the Concert Band.
Every camper will play in the Concert Band at the Saturday night concert.
There will be DMMC Souvenirs and pre-order camp group photos available for purchase at check-in.
THIS WILL BE YOUR ONLY TIME TO PURCHASE A CAMP PHOTO.
Camp photos are NOT included in your registration fee and cost $10.
Camp pictures are at 5:15pm. Do not miss out and be on time.
Dan Beatie, owner of Donner Mine Music Camp, will conduct a mine and museum tour at 3:00pm.
He will also tell you the history of the Camp and Mine. Meet Dan at the logs across from the lodge entrance.
PARENTS
Registrations must be completed by 3:00pm on Monday.
Good-byes no later than 4:45pm. Camp activities begin at 5:00pm.
---
Check Out
The Saturday evening program begins at 6:00pm.
Parents and guests should allow extra time to arrive and park.
Parking is extremely limited, so it is suggested that you car pool to the concert, if possible.
Remember, it is slow (5 MPH) going on the unpaved mountain road.
Bring a picnic supper if desired. Snacks and soft drinks are available at the camp store.

For camper's who have medications with the Nurse:
Parents MUST pick up Camper medications from the Nurse BEFORE the concert (by 6:00 pm).
ANY and ALL medications not picked up from the Nurse by Saturday at 6:00 pm will be properly disposed of.
DMMC will not be held liable for any medications that are disposed of after the concert.

Checkout time is Saturday following the evening concert and informal dessert reception.
The dessert reception is in the main lodge. The concert typically runs until around 9:00 pm-9:30 pm.

DMMC High School Week- Saturday, July 13, 2019
​
DMMC Junior High Week- Saturday, July 20, 2019